Ward Chiropractic Center offers a variety of products to assist with a wellness lifestyle. We have more supplements and products in our office, so stop by to see our selection.
Young Living Essential Oils
BIOFreeze
Rowe Casa
Rock Sauce and Rock Tape
Pillows
Rollers
---
Young Living
DISCOVER LIFELONG WELLNESS
At the intersection of cutting-edge research and traditional wisdom, Young Living's essential oils and oil-infused products empower you to claim your best life. YL pure essential oils and essential oil blends take you on a sensory journey that can instantly create a calming or balancing atmosphere.
Essential oils have enhanced lives for thousands of years, offering a variety of benefits from cosmetic and dietary purposes to spiritual and religious use. Young Living has always been at the forefront of bringing this ancient tradition to modern users, introducing millions to emotional, physical, and spiritual wellness that can be truly life-changing.

Extracted through careful steam distillation, resin tapping, and cold pressing, the purest essential oils are far more powerful than the botanicals from which they come. Any time you hold a bottle of Young Living's powerful essential oils, you hold nature's pure essence.
---
BIOFREEZE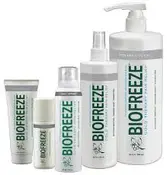 BIOFREEZE products are a unique, effective pain reliever formulated to provide a variety of benefits for therapy, pain relief, exercise/training and overall comfort.
BIOFREEZE products contain ILEX, an herbal extract from a South American holly shrub. ILEX is used around the world in various health & wellness formulations. BIOFREEZE topical analgesic does not use waxes, oils, aloe or petroleum. The result is a fast-acting, penetrating, long lasting pain reliever.
BIOFREEZE products can effectively help relieve pain from: • Sore Muscles & Muscle Sprains • Back, Shoulder, Neck Pain • Arthritis • Painful Ankle, Knee, Hip & Elbow Joints • Muscular Strains
---
ROWE CASA

Rowe Casa Organics provides all-natural solutions to help your family. They have a selection of products made with organic ingredients for baby, pets, household, outdoor, wellness and personal care.